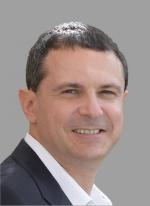 Dmitri Dozortsev, MD, PhD, HCLD, EMB
Dr. Dozortsev received his medical degree (MD) from Pavlov's Medical School in St. Petersburg, Russia. While in medical school, Dr. Dozortsev developed a strong interest in embryology. After graduation, rather than going into medical practice, he enrolled in a postgraduate training in preimplantation embryology at the Department of Embryology, Institute of Experimental Medicine (where Pavlov studied conditional reflexes). Dr. Dozortsev received his Ph.D. with highest honors from the University of Gent in Belgium in 1995 and served as a faculty at the Department of OB-GYN, Wayne State University from 1996 through 2004. He is board certified as a high complexity laboratory director in embryology and andrology by the American Board of Bioanalysis. He is also board certified as a Reproductive Embryologist (EMB) by the American College of Embryology.
Dr. Dozortsev is credited with the discovery of the mechanism of ICSI, redefining ovulation paradigm and introducing Term StimulationTM into clinical practice. His PGS fixation technique has been included by ESHRE in the "Best PGD Practice Guidelines". He has more than 40 publications and several issued and pending patents. His research in analyzing human gametes prior to fertilization was profiled by the journal "Nature".
His recent discoveries related to the control of the menstrual cycle are changing the practice of embryology and reproductive endocrinology.
In 2005 Dr. Dozortsev partnered with his friend, Dr. Michael Allon in Houston, Texas, where he currently resides with his wife, Gwen and their children.