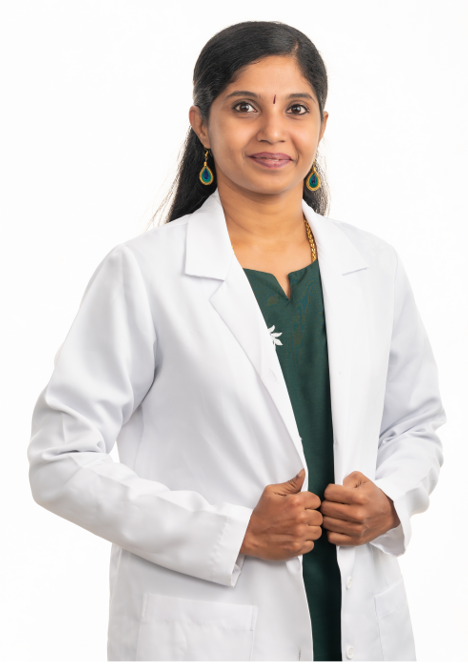 Embryologist of the Month
Dr B Aanantha Lakshmi
Dr. B. Aanantha Lakshmi's passion for medicine began in her childhood, and with the unwavering support of her parents. In 2012, she completed her Bachelor of Medicine and Bachelor of Surgery (MBBS) with a gold medal. Her husband, Dr. Suresh MD anesthesiologist, encouraged her to pursue her interest in medical physiology, and she went on to complete a Doctor of Medicine (MD) in 2016. Her dedication to teaching and learning earned her the "Best Pedagogy Award" as the best teaching postgraduate.
In 2017, Dr. Lakshmi pursued a Post Graduate Diploma in Clinical Embryology under the guidance of Professor Dr. Pandiyan Natarajan at the Chettinad Academy of Research and Education, where she received a gold medal for being the University Topper. Her clinical discussions and laboratory work have been enhanced by her knowledge of clinical embryology, and under the constant encouragement and guidance of Dr. Natarajan, she became a certified Clinical Embryologist by ESHRE in 2021.
Dr. Lakshmi began her career as an in-house Clinical Embryologist under Dr. Ramani Devi and Dr. Chitra at Janani Trichy Fertility Centre in Trichy, Tamil Nadu, a state in the southern part of India. With her guidance, non-ART centers in remote areas of various districts gained knowledge of sperm preparation methods for Intrauterine Insemination (IUI). She has been promoted as Senior Embryologist and won first prize in the Embryology Quiz conducted by the Academy of Clinical Embryologists (ACE) – India in 2022. She also received Embryo Biopsy training at META, Agra, India, and was the first to start Embryo Biopsies in Trichy.
Dr. Lakshmi's passion for teaching and sharing her knowledge with others is evident through her role as a faculty member for an Indian College of Obstetrics and Gynecology certificate course in Reproductive Medicine. She has been invited as a faculty member to national and international conferences and actively participates in many webinars, presenting her research work. With the support and cooperation of her children, Dr. Lakshmi has organized many Continuing Medical Education (CME) events in rural areas, in collaboration with the Indian Medical Association, on the topic of "How to Approach and when to refer a case of Infertility?"
Dr. Lakshmi is a member of ESHRE and a life member of the Indian Fertility Society, Indian Society of Assisted Reproduction, and Academy of Clinical Embryologists. Her dedication to her field and her commitment to sharing her knowledge and expertise has made her a valuable asset to the medical community in India and beyond. In February 2023 she became certified as Reproductive Embryologist (EMB) by the American College of Embryology.